Semantik Language Services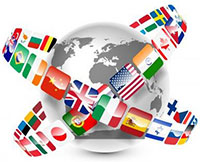 SEMANTIK provides translation and publication for a variety of sectors, including industrial, medical, life sciences, legal, engineering, foreign investment and others. Words do make a difference and the right choice lets your clients and customers know you understand them and their needs. And appearance can make all the difference!

Our commitment to quality control and on time delivery assures you the best service possible. Our team of translators are not only native speakers in your target language but are highly skilled professionals experienced in your business or profession.

We provide one stop shopping and turnkey convenience.

SEMANTIK works with many translation agencies throughout the world; and with major companies in many disciplines. We meet the translation needs of giant corporations as well as small private companies for Turkish, Arabic, Hebrew, Farsi, Greek, Bulgarian, Georgian, Azeri, Kazakh and other regional languages.

Our editors and project managers assure you of efficiency as well as quality. We use the major CAT and DTP tools as well as our own proprietary management software to deliver your project when you need it. And our programmers continually update our infrastructure to give you ever better service.

Whether it's technical manuals or documentation, legal briefs or medical materials, marketing brochures or advertising copy, scripts or screenplays, manufacturing or music, we'll give you just what you need, and more.

Contact us for more information. Send us your RFQ. Or just call. Well be happy to discuss your needs and options. We look forward to working with you soon.